Clinic CDMD Implantology Brossard
DENTAL IMPLANTS AND SURGERY
The placement of dental implants may require bone shaping, grafting or guided bone regeneration.

Dental implants are used to hold bridges and dentures in place. To do this, the dentist inserts a metal post into the jawbone. However, your gums and bone base must be healthy to be able to withstand it.

Over time, the pivot integrates with the neighboring frame. The implant forms a solid base to receive one or more crowns or other prosthesis.

At CDMD we use the latest surgical techniques in implantology, which greatly improves the results while facilitating the work
Fixed dental prostheses on implants
It is just as important to take care of dentures as natural teeth.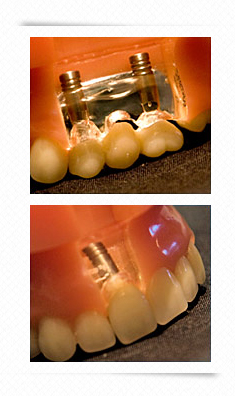 Removable prosthesis on implant
Caring for dental implants
The bone-integrated implant can be treated much like a natural tooth. However, it is more delicate at the level of the gum: it will therefore be necessary to be more careful in cleaning it with the brush and dental floss. At least once a day, gently floss your teeth, paying particular attention to the junction of the implant and the gum.

If you have dentures, regular examination by your dentist will ensure that the dentures still fit properly.

If you have a bridge or implants, the examination will let us know if you are taking good care of them.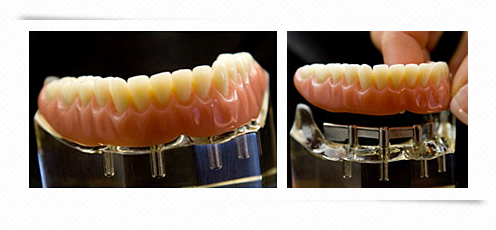 Those who have dental implants are as prone as others to gum disease. If your natural teeth and gums are affected, your partial (or removable) dentures will no longer fit firmly.
This aspect of modern dentistry requires the most advanced expertise. Dr. Demers has invested enormous resources in training with world-class implantology luminaries over the past few years, and proudly offers you these specific services.

To help you better understand the procedures in this section, you can watch in the office, using our 3D video presentation system, the treatments offered in detail.

A visit to our renowned implantology clinic will then allow you to make the best decision. We usually serve customers from greater Longueuil, Brossard, St-Lambert, Varennesand other immediate localities of the greater region of the South Shore of Montreal. Abundant parking spaces for your vehicle or direct access by RTL bus service on Taschereau.